Lancaster No. 8 Cast Iron Skillet
Lancaster No. 8 Cast Iron Skillet
In stock - ships in 1-2 business days
Durable, smooth, and light - the Lancaster No. 8 Cast Iron skillet is bringing tradition back to your kitchen through iconic design and American-made quality. We are proud to offer a Made in the USA cast iron pan, created by partnering exclusively with locally-owned and operated businesses. The process is local end to end. The Lancaster No. 8 cast iron skillet is cast, machined, seasoned and packaged in and around Lancaster, Pennsylvania.

The Lancaster No. 8 features a smooth, pre-seasoned cooking surface, a traditional stout handle, large pour spouts and a lightweight yet strong construction that feels natural in any chef's hands. This is a combination of features that can't be found on other modern cast iron pans. With the No. 8 Lancaster pan in your home, you will be taking part in a generational American tradition.
Why the number "8"? - Our cookware uses traditional American cast iron sizing metrics dating back to the 1800s. The numbers correlate to the size of eyes on antique wood stoves as cast iron cookware and wood stoves often went hand in hand. The number 8 is traditionally a top diameter 10.5" skillet.
The No. 8, Our 10.5" Skillet
Smooth surface, iconic pour spouts, traditional handle, light weight and made in America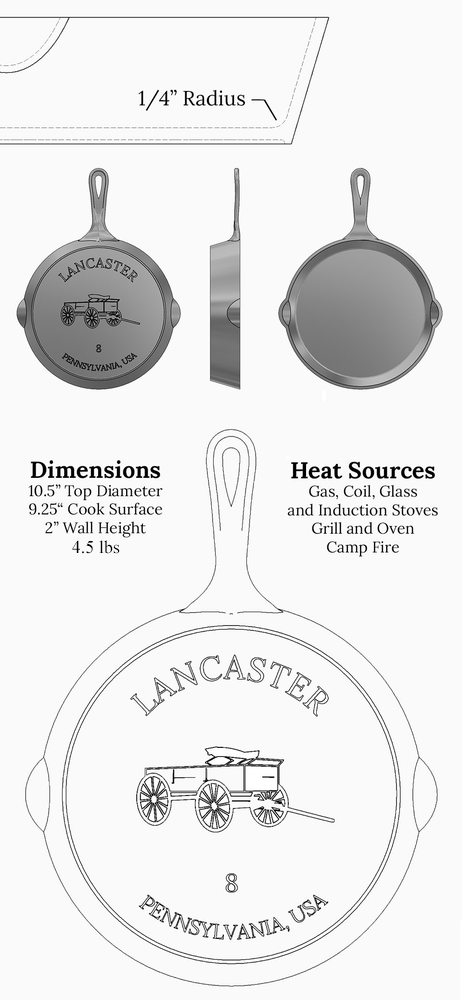 Light Weight

The Lancaster skillet is ±4.5 pounds. Iron's natural high heat retention makes it ideal to minimize wall thickness allowing the pan to be more responsive while still retaining heat. This means you get the great benefits of cast iron while cutting down on the arm-numbing heft of traditional cast iron. You will immediately notice the lighter weight; the skillet will feel effortless in your hand. We will honestly be surprised if your first words aren't, "Wow, that's light!"

Smooth Finish

Just like the prized Griswold skillets of old, the Lancaster skillet is bringing that smooth cooking surface back to your kitchen. Our smooth cast iron pans are machined to achieve a polished, non-stick surface, pre-seasoned by hand with multiple layers of grape seed oil and ready for daily use in your kitchen. Unlike other pans, this finish ensures that food will not stick from day one.

American Made in PA

Continuing the tradition of Pennsylvania-made cast iron, all Lancaster skillets are designed, manufactured and machined in Lancaster, Pennsylvania, and the surrounding counties.